---
Notice: I'm an affiliate for Amazon as well as other companies. Any links in this article may be affiliate links. I always appreciate it if you purchase something using my affiliate links. Doing so helps me to raise a little extra money that pays for the costs of running this site. And it allows me to continue bringing you quality content, all without costing you a thing! Thanks!
---
The other night I was trying to decide on what to fix for supper. I was really wanting a Salisbury steak but the only recipe that I had was for the slow cooker. Not gonna work! I needed a recipe that was a lot faster than that. I really didn't want to eat at 11 pm at night! So I decided to go ahead and make it in my skillet right on top of the stove.  I particularly love that this stovetop Salisbury steak recipe is grain-free….and it's also Paleo friendly if you skip the mashed potatoes!
It was super easy to make, and tasted really good! I paired mine with mashed potatoes and some mixed vegetables, but you could certainly substitute some mashed cauliflower or mixed veggies for the potatoes if you don't eat them!
This is definitely a comfort food meal. It's a classic dish that is perfect for any time of the year. And it has a pretty quick prep time too! So you can have a tasty and healthy meal without having to be in the kitchen for a long time!
This stovetop Salisbury steak recipe is gluten-free and grain-free too. Need a smaller recipe? I have a version of this for two for the slow cooker!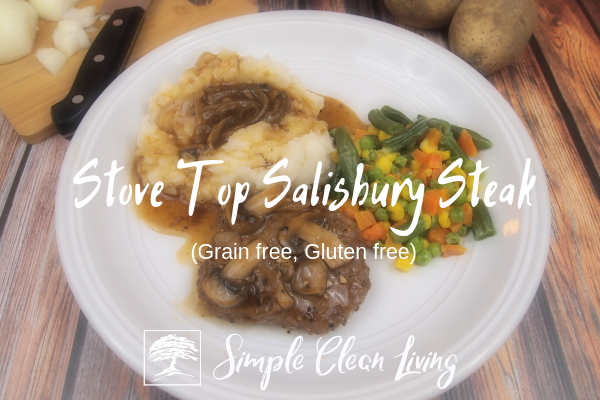 Stovetop Salisbury Steak
Salisbury steak is a great classic comfort food meal. It's simple to make and very filling too!
Ingredients
1

lb

ground beef

grass fed preferred

1

cup

mushrooms

sliced

1/2

cup

onions

sliced

2-3

cloves

garlic

chopped

2

cups

homemade beef broth or bone broth

2

tbsp

arrowroot powder

1/2

tsp

unrefined sea salt

1/8

tsp

black pepper

1

tbsp

butter
Instructions
Separate the pound of ground beef into 4 patties.

Season with a little unrefined sea salt and pepper (to taste)

Cook the patties in the skillet until fully cooked (at least 160 degrees F)

Place the cooked patties on a plate and set aside

Drain any excess grease from skillet.

Add 1 tbsp butter

Add the garlic, mushrooms and onions.

Saute until onions are translucent

Add broth and arrowroot powder and whisk until the arrowroot is mixed thoroughly.

Allow mixture to simmer for 5 minutes.

Add the beef patties back into the broth mixture.

Allow to simmer in the mixture for 15 minutes (broth mixture will thicken into gravy in that time)

Serve