---
Notice: I'm an affiliate for Amazon as well as other companies. Any links in this article may be affiliate links. I always appreciate it if you purchase something using my affiliate links. Doing so helps me to raise a little extra money that pays for the costs of running this site. And it allows me to continue bringing you quality content, all without costing you a thing! Thanks!
---
The holiday season is almost here. And one classic holiday dish that is easy to prepare is homemade cranberry sauce. I love the holidays and traditions have always been important for my family. There are certain things that we always have at Thanksgiving, and one is cranberry sauce. But, typically we would have the type from a can, that has a gelatin consistency. The type that still has the rings imprinted from the can on the slices that sit on the serving plate.
Now I'll be honest with you. I used to HATE cranberry sauce. Growing up it just was not something I ever wanted to eat. But they say that your tastebuds change and mine did! Now I love it! Of course, I'm not so fond of the canned version. But it's so simple to make that I just skip the can and make the sauce from scratch! No unwanted additives or other unwanted ingredients. And the homemade kind just tastes so much better too!
This year, throw that canned sauce in the garbage can! And make this simple but tasty cranberry sauce recipe instead! This version is incredibly simple to make….so simple that you'll be surprised how easy it really is. It is also much tastier than any canned version, and you can be confident in knowing exactly what you are putting in it!
It is sure to be a hit this Thanksgiving!
Be sure also to check out my…
Baked macaroni and cheese recipe.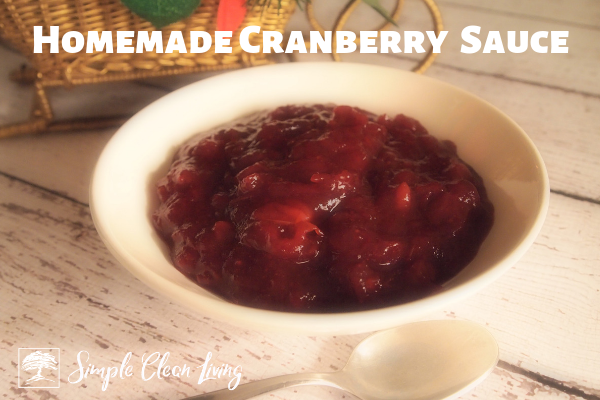 Homemade Cranberry Sauce
This classic holiday dish is so simple to make…and so much better than any canned version!
Ingredients
12

oz

bag fresh cranberries

¾

cup

fresh squeezed orange juice

1

cup

granulated coconut/palm sugar/turbinado sugar or organic sugar
Instructions
Place all ingredients into a medium sauce pan.

Cook on medium high heat until most of the liquid has reduced, stirring occasionally.

Remove from heat and serve.