---
Notice: I'm an affiliate for Amazon as well as other companies. Any links in this article may be affiliate links. I always appreciate it if you purchase something using my affiliate links. Doing so helps me to raise a little extra money that pays for the costs of running this site. And it allows me to continue bringing you quality content, all without costing you a thing! Thanks!
---
November is here and Thanksgiving is just around the corner. One side dish staple for the holiday season is candied sweet potatoes. No one knows exactly where this popular Thanksgiving dish got its start. But by the late 1800's variations of the recipe started appearing in cookbooks throughout the US.
Some variations of the candied sweet potato recipe top the sweet potatoes with marshmallows. Since I focus more on using real food ingredients in my recipes, I opted not to include them in my version. But of course, you can always grab a bag of mini marshmallows and put them on top of yours if you so prefer.
If you are trying to reduce your sugar consumption, you can substitute coconut sugar for brown sugar. Coconut sugar is lower on the glycemic index and easier for those who are watching their blood sugar levels. The taste, while not the same as brown sugar is very similar and will work well in this recipe.
Looking for a few other Thanksgiving recipes?
Check out my Sprouted whole wheat stuffing recipe and my homemade cranberry sauce recipe!
Also, be sure to do what you can to simplify your Thanksgiving this year! It will make it less stressful and more enjoyable for everyone!
Looking for a Thanksgiving organizer? I created a downloadable planner to help simplify your Thanksgiving. Find it over at my Etsy shop!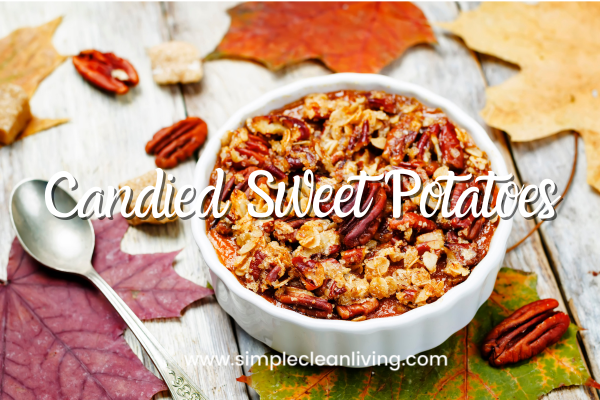 Candied Sweet Potatoes
Candied sweet potatoes are a classic and delicious side dish, especially perfect for holiday gatherings.
Ingredients
4

medium

sweet potatoes

peeled and sliced into1/2-inch rounds

1/2

cup

unsalted butter

1

cup

brown sugar

packed

1/2

tsp

cinnamon

1/4

tsp

nutmeg

1/4

tsp

salt

1

tsp

vanilla extract

1/2

cup

water

1/2

cup

chopped walnuts

(optional)
Instructions
Preheat your oven to 375°F

Place the sweet potato rounds in a large pot and cover them with water. Bring to a boil and cook for about 5 minutes until they are slightly tender but still firm

Drain the sweet potatoes and set them aside

In a saucepan over medium heat, melt the butter. Stir in the brown sugar, cinnamon, nutmeg, and salt. Cook and stir until the sugar has dissolved and the mixture is smooth

Remove the saucepan from heat and stir in the vanilla extract

Arrange the parboiled sweet potato rounds in a single layer in a baking dish

Pour the butter and sugar mixture over the sweet potatoes, ensuring they are evenly coated

Add 1/2 cup of water to the baking dish to create some steam and prevent the sweet potatoes from drying out

Sprinkle chopped walnut on top

Cover the baking dish with aluminum foil and bake in the preheated oven for 30 minutes

Remove the foil and baste the sweet potatoes with the syrup from the bottom of the dish. Bake for an additional 15-20 minutes, or until the sweet potatoes are tender and the edges are caramelized

Serve the candied sweet potatoes warm, spooning some of the syrup over the top