---
Notice: I'm an affiliate for Amazon as well as other companies. Any links in this article may be affiliate links. I always appreciate it if you purchase something using my affiliate links. Doing so helps me to raise a little extra money that pays for the costs of running this site. And it allows me to continue bringing you quality content, all without costing you a thing! Thanks!
---
This citrus-infused vinegar is one of my new favorite cleaning products! It makes the house smell lemony fresh!
I really love cleaning with natural products. I'm very sensitive to many of the chemicals used in conventional store-bought cleaners. So I haven't been able to use them for a long time. But homemade cleaners with simple ingredients are much better for me and for my body. Vinegar is one of the very best all-purpose cleaners that you can use around the house to clean naturally. The only downfall is, well…….the smell. Let's face it, vinegar doesn't exactly have the best fragrance! The good news is that eventually the vinegar dries and the scent goes away. But what if you don't have to deal with the strong scent of vinegar at all?
The best way to do this is to infuse the vinegar with other more fragrant fruits. Infusing the rinds of citrus fruits can tone down the smell of vinegar significantly. But infusing citrus has other benefits as well. Lemons, limes, and oranges contain antibacterial, antifungal, and antiviral properties and can make the cleaning power of vinegar even stronger!
And citrus-infused vinegar with lemon has to power to kill bacteria, viruses, mold, and mildew. This combination makes the perfect cleaner for the bathroom! And it makes it my favorite combination. The lemon fresh scent is especially perfect during the warmer months when it reminds me of summer.
And did I mention how easy it is to make this? It's definitely a simple recipe!
Are you looking for other natural housecleaning ideas? I've got you covered!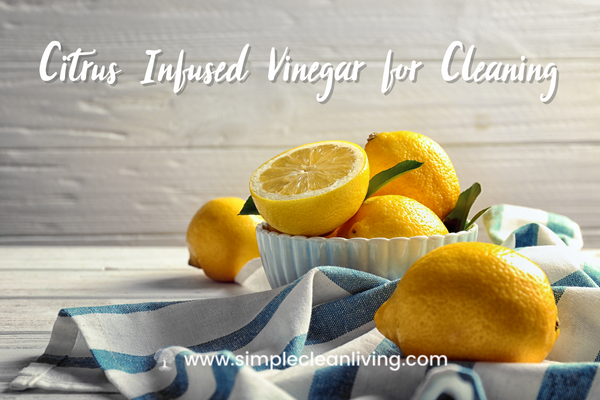 Citrus-Infused Vinegar for Cleaning
Ingredients
1

quart

white vinegar

10-15

lemon

lime or orange rinds, quartered
Instructions
In a 1/2 gallon mason jar, add the vinegar and the lemon rinds.

Cover with lid.

Allow the lemon to infuse for 2-3 weeks.

When done, strain the lemon rinds.

Pour the lemon infused vinegar into a spray bottle to use as a cleaner.