---
Notice: I'm an affiliate for Amazon as well as other companies. Any links in this article may be affiliate links. I always appreciate it if you purchase something using my affiliate links. Doing so helps me to raise a little extra money that pays for the costs of running this site. And it allows me to continue bringing you quality content, all without costing you a thing! Thanks!
---
Have you ever had baked apples? This recipe really brings me back to childhood. My mother absolutely loved to make these during the cold fall and winter nights as dessert. Growing up in Michigan, she always used Macintosh apples with are plentiful there. While other apples may taste good, there is nothing like a Macintosh baked apple! I always know that fall has arrived when I start to see them in the store. They have a distinct smell that I connect with autumn. And the apple desserts I make in the fall just don't taste the same unless I use them!
I've changed up her recipe by using coconut sugar, which is low glycemic. And I actually increased the butter a bit. They are absolutely fabulous with a little dollop of freshly made whipping cream!  I didn't have any pecans or walnuts. But I used some chopped nuts that I had on hand…and it was still yummy! It will make your house smell incredible too!
The other great thing about these is that you can make as many or as few as you need because the recipe is for one finished apple….just double, triple, quadruple it!
Now, I do have another baked apples recipe that can be done in the microwave if you're looking for something a little quicker!
This recipe is naturally gluten and grain-free…bonus!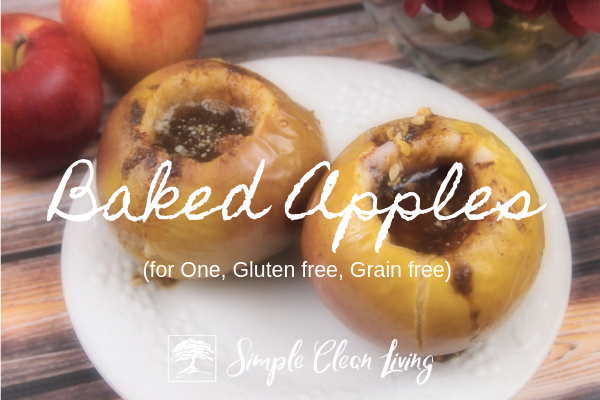 Baked Apples (Recipes for One)
Baked apples are a wonderful fall dessert. Full of sweet apple cinnamon goodness.
Ingredients
1

apple

use your favorite kind!

1

tbsp

coconut sugar

cinnamon to taste

1

tbsp

butter

1

tbsp

walnuts or pecans

1

tbsp

organic raisins
Instructions
Preheat oven to 350 degrees F.

Using a paring knife cut a circle around the core leaving approximately 1 inch uncut at the bottom of the apple (you can also cut out a part of the core and use a spoon to remove the rest, leaving 1 inch at the bottom of the apple)

Add coconut sugar, cinnamon, raisins, walnuts and butter to the hole in the apple.

Take a baking dish and add enough water to cover the bottom.

Place the filled apple into the baking dish.

Bake on 350 for 30-35 minutes, until the apple is soft.

Once done, take a spoon and stir the contents in the center of the apple to mix. Spoon some over the apple.