---
Notice: I'm an affiliate for Amazon as well as other companies. Any links in this article may be affiliate links. I always appreciate it if you purchase something using my affiliate links. Doing so helps me to raise a little extra money that pays for the costs of running this site. And it allows me to continue bringing you quality content, all without costing you a thing! Thanks!
---
I have a confession to make….before I began my real food journey I used to make and sell candy bouquets. If you don't know what a candy bouquet is, it is like a flower arrangement, except it uses candy, or other small packaged snack foods instead of flowers. Kids absolutely LOVE candy bouquets….and so do men, and you certainly wouldn't ever think about buying a guy a floral bouquet! That business actually did pretty well, but once I started learning about real food, I just didn't want to make and deliver candy bouquets filled with processed, junk-filled candy all the time. I believe in moderation now. Once in a while, it is okay to indulge.
I still make bouquets on occasion, but now I typically try to use healthier options, such as individually wrapped organic chocolates and small snacks such as GMO-free granola bars, fruit leathers, packages of nuts….well, I think you get the idea.
Candy and snack bouquets look really expensive, but you can put together a bouquet pretty inexpensively….and the best part is that they make very unique gifts that people love to get! I used to charge $25 for a mug bouquet like the one I show you how to make here. But I can actually put together a mug bouquet for $8-$15 depending on what snacks I include (organic snacks and chocolate cost more). In the demonstration bouquet, I used GMO-free Kind granola bars and some organic fruit leathers. I paid $12 for all of the supplies for this bouquet.
And the best part is you choose what goes into the bouquet, so you can customize it for those who may be dealing with any food allergies or intolerances!
Want to learn more about how to make candy bouquets for fun…or profit? Check out my How to Make a Candy Bouquet course! Includes more than 80 minutes of video training on candy bouquet making!
How do you make a candy bouquet?
You need to gather the following items: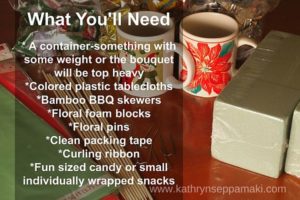 Here is one place where you can find these items:
You can use colored tissue paper instead of plastic tablecloths, but tissue tends to wrinkle and rip more easily and is more difficult to work with. Also, you can find colored plastic tablecloths at stores like Walmart and dollar stores for around $1.
You will need a container with some weight. Mugs work really well for smaller bouquets (which is what I used for this tutorial). If the container is too light, your finished bouquet will be too heavy and topple over. One solution is to weigh down a lighter container. You can purchase balloon weights inexpensively at craft stores and party stores. You can find containers at dollar stores, discount stores, thrift stores, craft stores….you are really only limited by your imagination!
What you will do next: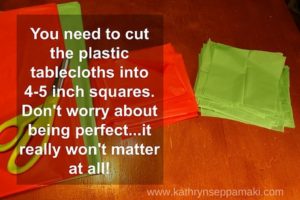 And when I say that you don't need the squares to be perfect, I'm not kidding. Usually, I get a combination of squares and rectangles and they all work just fine!
Step three:
When cutting the foam, usually a steak knife will do. Once again, you don't have to be perfect with this. Just look at my example above! It is good if the foam sticks up above the top edge of your container just a bit. It makes it easier to pin the tablecloth squares!
Your container is ready so now you need to:
Pretty easy so far, right? Here's what is next:
It is best to try to alternate colors when you are doing the above steps. And you can use more than just two colors. I've used as many as 5 or 6 colors before when using a multi-colored container and it looked great!
Next, you will need to attach the candy to long BBQ wooden skewers.
I always purchase the long BBQ skewers, although there are several sizes. These can typically be found in the same aisle as the kitchen gadgets at your local big box store.  If you need to shorten them while you are adding the candy or snacks to the bouquet, then all you need to do is to break the skewer (they break fairly easily).
Now all you need to do is to start sticking the candy/snacks into the floral foam and arrange your candy bouquet. You will want the candy at different levels….taller in the back and shorter in the front. You can adjust as you work.
Once you are done arranging the bouquet and it looks the way you like, then just use some curling ribbon (make sure you curl it!) and drape it over the bouquet. It just gives your bouquet a little extra bling!
You can also take it one step further and wrap the bouquet in a cellophane gift basket bag. Tie the top with some more curling ribbon and curl.
One word of warning….although kids love these bouquets, they are NOT for really young children. The BBQ skewers and the floral pins are very sharp and can be dangerous for young children. They are definitely not toys!
Here's what the finished candy bouquet looks like!
To show you some of the large bouquets that you can do and to show you what they look like wrapped in a cellophane gift basket bag, just check out the bouquets that I did professionally below.
Learn more about making candy bouquets for fun…and for profit with my digital course! The course includes more than 80 minutes worth of video training and shows you exactly how to make professional-looking candy bouquets!
What You'll Learn In This Course
Supplies you'll need to create a candy bouquet
Where to source supplies economically
Choosing the right container for your bouquet
Unique places to find containers
Things to think about when choosing candy for your bouquet
Basic candy bouquet construction
Specialty bouquets
Making candy bouquets as a business
Get unlimited access!