---
Notice: I'm an affiliate for Amazon as well as other companies. Any links in this article may be affiliate links. I always appreciate it if you purchase something using my affiliate links. Doing so helps me to raise a little extra money that pays for the costs of running this site. And it allows me to continue bringing you quality content, all without costing you a thing! Thanks!
---
Sometimes my schedule gets busier than I would like. I might have days or weeks that are filled a little too full with obligations. Luckily, this isn't my life regularly and I've designed things that way on purpose! We live in a time when being "busy" seems to be almost expected. But as an energy-sensitive person, that type of life leaves me drained! And as much as I try to have plenty of quiet time being too busy does happen sometimes! But a girl still has to eat! That's when recipes like this slow cooker beef stroganoff soup are perfect!
When I have a busy week, I don't know what I would do without my slow cooker or Instant Pot! So many people just go through a drive-thru and pick up fast food, or eat some other highly processed convenience food. But that just doesn't work well for my body so it's not an option except for very rare occasions.
Whole foods are best!
What does work well for me is to eat whole foods as much as possible. So I usually cook from scratch as much as I can. So having a slow cooker and Instant Pot during busy times is a lifesaver!
I've been wanting to create some new soup recipes while there is still a bit of a chill in the air. For some reason, I'm not big on soup during the summer months. I think it heats me up too much. I don't drink hot tea or coffee during the hot months for the same reason! And I came up with a list of ideas for soups I wanted to create…and this beef stroganoff soup was at the top of my list!
I love slow cooker beef stroganoff! It makes the beef SO tender! But what about the same flavors…in a soup! Why not? So I threw this together and it turned out so well!
I do recommend that you cook the pasta separately and add it once everything is done cooking. This is particularly important if you're using gluten-free or other alternative types of pasta. This allows the pasta to keep its firmness and not become mush!
I used chickpea-based pasta for this because it's high in protein and doesn't mess with my blood sugar levels! It turned out perfectly and was very filling!
I used arrowroot powder to thicken the soup, which is both gluten and grain-free. You can keep this meal gluten-free by using gluten-free pasta and grain-free by using chickpea or lentil pasta. Pair it with some banana bread for a lovely meal!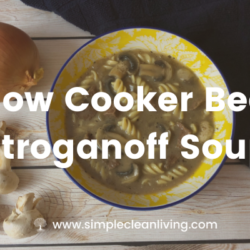 Slow Cooker Beef Stroganoff Soup
Ingredients
1

pound

stew meat

or chuck roast cut into small chunks

3

cups

broth

1/2

cup

onion

chopped

2

cloves

garlic

minced

2

tbsp

Worchestershire sauce

1/2

tsp

Herbes de Province

1/2

tsp

sea salt

1/8

tsp

black pepper

1

cup

mushrooms

sliced

1/4

cup

sour cream

2

tbsp

brown rice or arrowroot powder

3

tbsp

cold water

2

oz

pasta
Instructions
Add onions, garlic, meat, broth, Worchestershire sauce, and seasonings to slow cooker.

Cover and cook on high for 4 hours or low for 7.

30 minutes before cooking time has finished, add the mushrooms and sour cream. Stir until the sour cream is fully mixed in.

In a small bowl, mix together the arrowroot powder and cold water and add.

Make the pasta according to package directions.

Once the soup has finished cooking, drain the pasta and add it to the soup.