---
Notice: I'm an affiliate for Amazon as well as other companies. Any links in this article may be affiliate links. I always appreciate it if you purchase something using my affiliate links. Doing so helps me to raise a little extra money that pays for the costs of running this site. And it allows me to continue bringing you quality content, all without costing you a thing! Thanks!
---
I really love creating new recipes like this ground chicken, potato, and spinach soup. But this recipe actually came from necessity at a time when I was pretty limited in what I could eat. In the past, I've had issues with digestive issues, particularly gastritis, especially when under extreme stress. Digestive issues aren't uncommon for those of us who are sensitive. Chronic stress is the main contributor to my digestive woes, which is why I tend to have flares when stress is the highest. I had issues after I lost my Mom and after my divorce. And then, of course, I experienced a pretty bad flare in September after my Dad passed.
A pandemic and chronic stress
After a year and a half of collective stress due to a pandemic, I wasn't completely surprised that I was suddenly struggling with digestive issues. Particularly after the added stress of losing a loved one. This flare was particularly uncomfortable. A lot of gas and bloating (TMI, I know). And plenty of stomach pain. So I knew that it was time to work on healing my gut.
I purchased the book The Gastritis Healing Book by L.G. Capellan which was actually recommended to me. The book is great! Lots of great information about what you can do to heal your gastritis. The author recommends eating a diet of lower acidic foods as well as foods that are softer on the stomach. And you are given a list along with quite a few recipes. I was pleasantly surprised at just how tasty the recipes were.
After a while, however, I was looking to create a few new recipes. And I made the decision to create this recipe. The ingredients are very simple. And the use of sage gives this recipe a taste somewhat similar to the Zuppa Toscana from Olive Garden. But I used ground chicken for this recipe and not pork.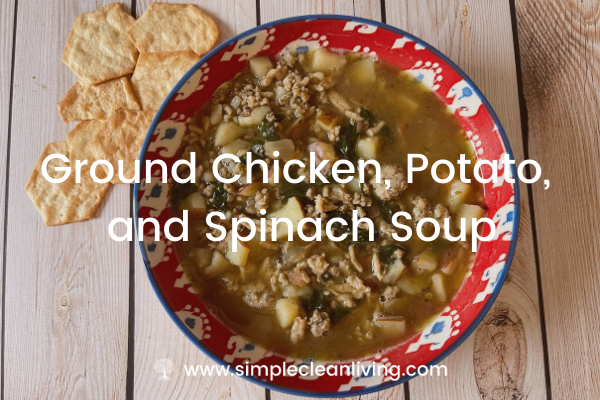 Ground Chicken, Potato and Spinach Soup
Ingredients
4

cups

chicken bone broth

1

cup

water

1/2

pound

ground chicken

2

large

red potatoes

diced

2

cups

spinach

stems removed

2

tsp

sage

1

tsp

thyme

1/2

tsp

sea salt
Instructions
In a skillet, brown the ground chicken

In a separate large saucepan, add the broth, water, potatoes, and seasonings

Bring to a boil and cook until the potatoes are tender.

Add the ground chicken and spinach and simmer until the spinach is wilted