---
Notice: I'm an affiliate for Amazon as well as other companies. Any links in this article may be affiliate links. I always appreciate it if you purchase something using my affiliate links. Doing so helps me to raise a little extra money that pays for the costs of running this site. And it allows me to continue bringing you quality content, all without costing you a thing! Thanks!
---
It's that time again! It is spooky season and Halloween is not far away. I'll be honest that I get just as excited as most kids about picking out a good costume (or two) to wear for seasonal parties and to pass out candy on Halloween night. Of course, no one can forget what the night is all about for most kids…candy. And lots of it!
But candy isn't the only thing people are spending their money on in October. The NRF has estimated that people will spend $3.1 billion on Halloween Candy. But they will spend $3.6 billion on costumes and $3.4 billion on decorations.
What if you are looking for ways to have a more simple Halloween this year? There are definitely things you can do! Here are a few tips and tricks to help you have a simple Halloween!
Decorate more simply!
If you've been to the big box home improvement store any September or October you have most likely seen the massive amount of Halloween decorations that are now available. And people are spending far more on both indoor and outdoor decorations than ever before. Some people are going above and beyond. But decorating for Halloween doesn't have to break the bank.
Look to nature!
Using natural elements such as pumpkins, gourds, fall leaves, grapevine wreaths, pinecones, candles, branches, and logs can all help you to create a spooky atmosphere. And some of those natural items can even be sourced from your backyard or from your neighborhood and won't cost you a thing!
An additional benefit is that some of your decorations may be able to stay up through Thanksgiving too!
Make some simple DIY decorations
If you are crafty, you could always use your skills to make some DIY decorations that can make your house look spooky. Paper chains, tissue paper ghosts, and floating toilet paper roll candles are just a few of the things you could create to make your home more festive. A quick Google search brings up lots of different decorations that you can make inexpensively.
Get creative with costumes
I may be an adult, but as someone who participates in shows at the local theatres in my area, I LOVE to dress up for Halloween! But instead of going to the store and buying a pre-made costume, I enjoy getting creative to create some unique and original costumes. I definitely don't want to spend a lot of money on a costume that I will only wear one day a year…and may only wear once. So there are a couple of things I do to make cute costumes happen, without wasting a lot of money!
Look around your house
It is amazing what you can find to use for a costume when you look around your own house! I've been able to whip together great costumes with just the things in my own closet. So the first place to look is in your own house! You may find some creative solutions for a costume!
The thrift store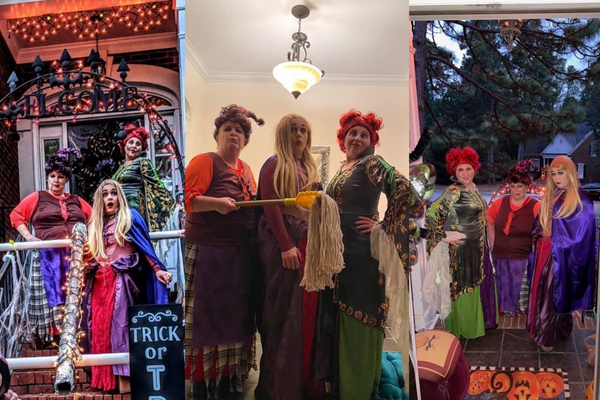 This is my next favorite place to go when looking for a costume. A couple of years ago, two of my friends and I made the decision to dress up as the Sanderson Sisters from Hocus Pocus. I did not want to go and buy the premade costume (although I did buy the wig).
I was able to find a few pieces at my local thrift shop that worked for the skirt, shirt, and vest. I added a small bit of fabric from the fabric store as the apron. Without the wig, my costume cost me less than $15. The premade costume without the wig was much more expensive than that!
The craft store
Of course, if you are crafty, you could make something to wear as a costume. I don't buy everything from the craft store because that can be fairly costly. But I do often buy little bits of fabric or other small items to use for the costumes I create. Several years ago I did create a Minnie Mouse costume by buying a few yards of red and white polka dot fabric which I fashioned into a skirt. Fortunately for me, I already had the ears, black leggings, and a black turtleneck. I bought a pair of white high-heeled shoes which I painted yellow. That costume cost me less than $15 because I was able to get the fabric on sale! A little creativity can go a long way to helping you create costumes that are simple, but still cute and unique!
Pass on throwing a Halloween party
Yes, Halloween parties are lots of fun. But they are also lots of work. And they can also cost a good amount too. Halloween is just before the start of a busy holiday season. Because of this, it may be best to skip throwing a Halloween party. If you're looking to simplify, cutting out party planning can definitely keep things more simple.
If you absolutely must throw a party, then consider offering a few items to eat and encourage your guests to bring some food to share. I have several friends who do this not only for Halloween but for Christmas parties as well. It takes some of the pressure off of the host by not having to provide all of the food and beverages. And it allows guests to experience lots of different goodies too! No one has ever complained about doing this. And we always have a lot of fun!
Don't buy your candy too early
Let's be honest, shall we? Having candy in the house can be a real temptation…and not just for the kids. If you're trying to eat less processed, sugar-filled foods, it may be easy to reach for that bag of Halloween goodies if it is in the house too early. The stores will have plenty of candy to choose from, even if you wait until less than a week before Halloween. This also helps you to not have to go and replace candy that has already been eaten, which can save you some money!
Keep an annual record of how many trick-or-treaters you have at your house. Then you can be sure not to overbuy candy, helping to minimize that expense. My mom did this every year. Each year she wrote down how many kids stopped by the house on a recipe card. She kept that card at the front of her recipe box.
Limit your trick-or-treat route
If you have children, no doubt they will want to go out into the neighborhood and trick-or-treat. Of course, if you are focusing on eating mostly simple, clean, whole foods, you won't want your kids bringing home too much candy. One way you can get around having too much candy in the house is to limit the area where you take your kids trick-or-treating. Choose a couple of streets in the neighborhood and stick with the area you've planned. This allows the kids to have some trick-or-treating fun, but not have a container filled to the brim with candy.
It won't take as long to trick-or-treat, but the kids can still have fun. Have a special activity ready for them when they get home so that they can continue to celebrate the day. You could sit down together and watch a Halloween movie or television show together. Or play a special game as a family.
Use a smaller container to collect candy
I've seen some huge Halloween candy containers in my time! But honestly, the kids don't need to bring pillowcases or giant plastic pumpkins to collect candy. Using a smaller container will actually make them feel like they have more and it fills up more quickly too.
Trunk-or-treat and fall festivals
So what if you don't go trick-or-treating, but visit a trunk-or-treat or fall festival instead? The kids can definitely still get a lot of candy at these events! So keep the container small so they don't wind up with more candy than they need.
At the end of the night choose the best candy and get rid of the rest
What happens after your kids bring home a big container of candy that they could eat for weeks? You will definitely want to get them back to a cleaner way of eating, especially with the holiday season approaching. So one thing you can do is to have your child go through their candy and select the candy they like the best. Allow them to keep enough to have a few pieces a day for a week or two.
Then get rid of the rest! Have your kids trade in the candy they don't want for a special prize or fun activity. You don't have to throw that candy away! You can donate the leftovers to a local homeless shelter. Or give it to a group that sends care packages to military men and women. Those are great ways to repurpose the candy so that you don't have to throw it out!
Get a Halloween Planner
If you are a Halloween lover and plan on going all out for the season, then consider buying a Halloween planner that can help you stay organized! I created a printable planner that can help you this Halloween. It contains over 50 pages of to-do lists, event planning sheets, invitations, budgets, and more. 
The most important thing about Halloween is not the candy, the costumes, or the decorations. It is the memories that you make with those you care about. And Halloween doesn't have to be flashy or expensive to make that happen. Often times in simplifying things you have enough time to fully savor the experiences you have.